Become a Memory Lane Inc. V.I.P Customer
Many have come and gone in the duration, but for the past 20 years, Memory Lane Inc. has been a leader in the rapidly expanding sports memorabilia auction field.  We are blessed with a top-notch team of experienced professionals with decades of combined experience.  All of us appreciate the type of memorabilia we sell because we, too, are collectors.
Memory Lane Inc. presents the most exciting auctions in the hobby, with full-color, attractive and fun catalogs and an online auction platform that is easy to navigate.
If you are looking to sell a piece of quality sports memorabilia, Memory Lane Inc. can help by putting it in front of a very large audience of avid collectors.  If you are looking to purchase items for your collection, we sell thousands of high grade, rare and unusual items from sports, entertainment and history at least three times each year.  These are simply 'can't miss' events for anyone who is a serious collector.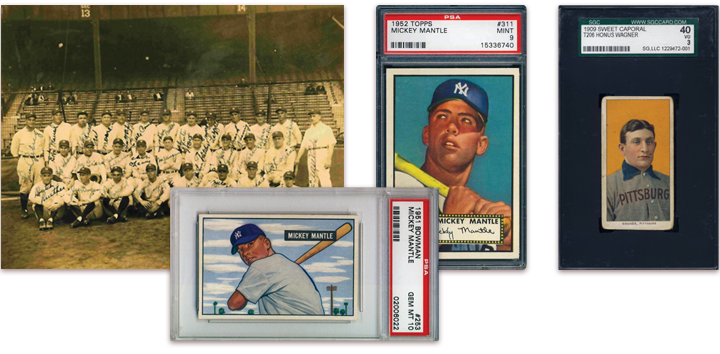 The 'best of the best':  It's what Memory Lane Inc. is known for and over the years, we have generated headlines for selling some of the most valuable baseball cards and memorabilia on the planet.  Among them:
- The only 1951 Bowman Mickey Mantle rookie card to ever grade GEM MINT 10 by PSA
- Multiple copies of sports collecting's 'holy grail', the 1909 T206 Honus Wagner
- 1927 team signed New York Yankees photograph
- Five PSA 9 rated 1952 Topps Mickey Mantle cards
- 1954 Topps Hank Aaron rookie card PSA 10
Whether you're selling a $500,000 item or a $500 one, Memory Lane Inc. will treat you with the courtesy you should expect from any sports memorabilia auction company.
Don't be treated like everyone else ... BE TREATED BETTER!