We'll Promote Your Collection
Have Memory Lane Inc.'s aggressive marketing get you top results!
Finding a sports memorabilia auction company is easy.  Finding one that will work tirelessly to make sure your collection or single card gets maximum exposure is much more difficult. 
Since its inception more than 20 years ago, Memory Lane Inc. has sold over $125 million in collectibles. Memory Lane Inc. has stood head and shoulders above this crowded field by creating memorable, eye-catching catalogs that are distributed to thousands of collectors who are anxious to bid on and buy your items.  We distribute our beautiful and creatively designed catalogs free to anyone who asks and ship thousands of them to our customers around the world.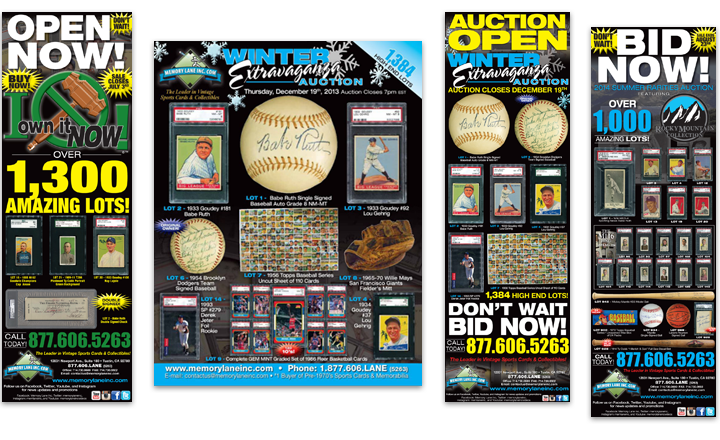 TARGETED EMAIL BROADCASTS • CATALOGS • SALES FLYERS • POSTCARDS
Memory Lane Inc. markets each and every auction and I Own it Now! sale to the major online and print media outlets in the hobby through a large advertising budget and we reach thousands more via social media. We alert thousands of dedicated hobbyists about our auctions and sales through an extensive email list and travel thousands of miles coast-to-coast each year where we meet with people who are interested in selling their collections or seeing in person what we have to offer. 
We spare no expense at these shows to professionally highlight the best cards and memorabilia we have to offer in a very visible position inside the convention hall.  We pass out thousands of free catalogs to new and returning bidders, including the annual National Sports Collectors Convention, the hobby's premier event for which we are a major corporate sponsor.
 While some large auction companies may see consignors as little more than a dollar figure they receive from a prospective consignment, we believe a personal touch is best while we determine how we can help you get the most money for your items.