Have Memory Lane Inc. Validate Your Collection
What's it worth?
It's a common question; one we hear virtually every day from people who have a piece of sports, historic Americana or entertainment memorabilia item in their possession and want to know 1) what it is  2) what it might be worth and 3) if we can sell it for them.
Other times, new collectors and even potential investors want to 'take the temperature' of the marketplace and learn more about sports memorabilia as they ponder purchases.
Yes, Memory Lane Inc. does buy, sell and auction sports cards and memorabilia but if right now you're just looking to have an item appraised or simply want to consult with one of the experts on our staff, we are more than happy to do so.
We've handled tens of thousands of different items since our launch back in 2000 and follow the industry very closely.  Chances are we've sold something like what you have and can shed more light on its story, including a range of value you could expect to receive for it if you were to sell it through us.  We'll help you determine the best course of action to achieve the greatest return.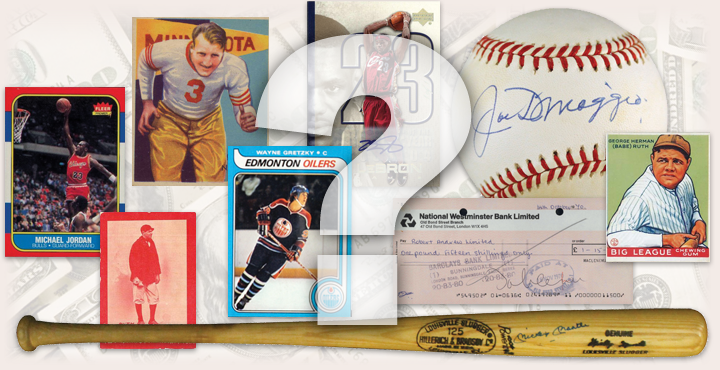 Parting with a valuable item can be a little scary if you've never done it before but Memory Lane Inc. takes the worry out of it for you.  Our goal is to make sure your experience is a positive one so you'll come back again or refer us to someone else with items to sell.
Likewise, if you're ready to collect quality sports memorabilia and need some advice on how to build a collection you can be proud of, it would be our pleasure to offer some suggestions based on the history of the marketplace.
Memory Lane Inc.'s extensive network of collectible experts and professionals provides individuals with access to a network of collectible expert professional resources at no fee.
We provide collectors with honest and market savvy opinions regarding current market values of their personal collectibles and for opinions on prospective purchase prices.
Memory Lane Inc. offers consultations and Appraisal services to sports card and memorabilia collectors at no cost and we save collectors and novice's alike time and money when buying or selling collectibles.