Have Memory Lane Inc. Authenticate Your Collectibles
Should I have this graded? How do I know this is the real deal?
Both questions are common and Memory Lane Inc. can help you answer them.  We work closely with the most reputable authentication and grading companies in the business and can assist you in determining if the process is right for your collectibles.
The authentication realm has grown considerably since we first opened our doors and most any type of sports memorabilia can now be graded and authenticated.  These services can considerably enhance the value and marketability of your item and should be considered whenever practical.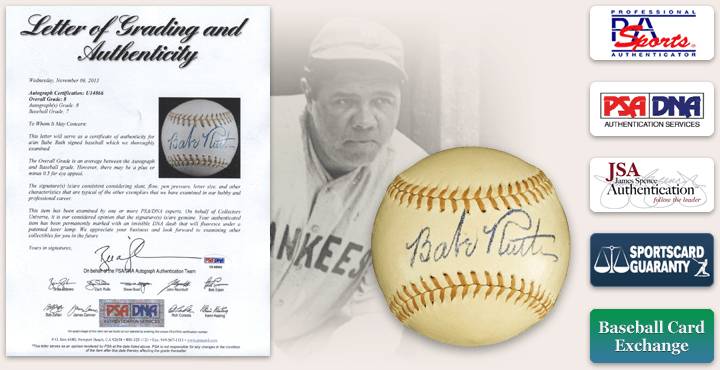 Many times, we've seen items carrying the opinion of an expert in the field sell for a price that not only covered the fees associated with grading and authentication, but bolstered the value of the items by 100% or more.  These items are also easier to liquidate when encapsulated and/or accompanied by a certificate of authenticity.
Sports cards, vintage unopened packs, autographs including signed letters and checks, game-used or game-worn jerseys and equipment, pins, photographs, trophies and rings are just some of the items we can help authenticate.
Memory Lane Inc. is affiliated with all the major grading and authentication companies and we can assist you in determining if the process is right for your collectible.
In High Market Demand
- Sports Cards
- Un-opened Packs of Cards
- Un-cut Card Sheets
- Autographs
- Uniforms and Shoes
- Balls
- Bats and Gloves
- Pins
- Photos
- Game Tickets and Game Programs
- Posters, Advertising and Seats
- Personal items
- Trophies and Rings
- Cancelled Checks, Letters and Contracts